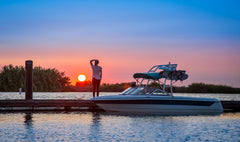 Whether you're fishing, wakeboarding, or laying up anchor near a sandbar, the right soundtrack makes your favorite activities even better. And it has to sound amazing. You want to feel the beat along with all the highs and all the lows, even over the sound of an engine or background noise. The quality you want depends on choosing the right marine audio system. Plus, your equipment has to stand up to water, sand, salt, sun and anything else you throw at it.
Whether you're outfitting a speedboat, a fishing vessel, a yacht, or even a Jet Ski—upgrading or starting from scratch—we've got you covered. Use this guide to choose the best marine audio components to make your days on the water that much better—and louder!
What is a marine audio system?
A marine audio system is a sound system designed for boats and other watercrafts. The components are "marine-rated" which means they can stand up to the outdoor elements, including sunlight and moisture.
Which features of marine audio make it different?
Marine audio is UV-resistant so the components won't dry out or crack from long-term exposure to sunlight. It's also water resistant, so the components can get splashed without short-circuiting as well as hold up to humidity, whether on the ocean or freshwater lakes and rivers. Just note, most marine audio components are not waterproof, so while the speakers and subwoofers can take a little water, they generally can't handle being fully submerged.
What makes Audio Legion marine speakers so durable? They are made with noncorrosive aluminum frame and water-resistant features.
Can you use car or home audio speakers, amps, and subwoofers on a boat?
You may find car or home audio elements that fit where you need them on your boat. However, using these is typically not a good idea, since those components aren't designed for the marine environment and may break down quickly in the outdoor elements. Any money you might save up front by using a car or home audio system could quickly go to waste if your equipment becomes damaged. It's better to invest in marine-rated components up front.
Choosing marine audio speakers
Speakers constitute the most important part of your boat's audio system. You can position them just about anywhere on your boat and power them from your receiver. Some models require more electricity, and you'll get them to perform their best by powering them with a separate amplifier.
How can I choose the right speakers for a boat?
To choose your marine speakers, you will want to consider their size (in diameter), their wattage and their weight.
Diameter and Wattage
On the smaller end, 6.5" speakers provide 400 watts of power. The size allows for an easier fit for more possible locations. Slightly larger 8" speakers provide 600 watts for more power and more efficiency, but of course require more space.
Weight
Traditional marine audio speakers can weigh upwards of five pounds (5 lbs.), making them durable but somewhat limited in where you might want to install them. That said, they also tend to be more cost efficient than lightweight models.
Lightweight speakers, on the other hand, use a neodymium (NEO) magnet and weigh in at about half of a traditional speaker. They're great for high-performance watercraft where speed is your priority.
Add marine subwoofers for dynamic sound
A marine subwoofer can be mounted in a panel or bulkhead of your boat. It can also go in a compartment under the seats, under the bow, or even on a wakeboard tower.
Like all subwoofers, marine subwoofers are designed to enhance bass, the low-pitched frequencies that speakers can't reach. As a result, you get a more robust and dynamic sound for all types of music, whether rock, rap or country.
Audio Legion's marine subwoofers are effortlessly loud and distortion free, at 500 watts and 8" diameter.
Marine audio grilles for extra protection
All the buoys, ropes, waterskis, paddles, and other boating gear moving around in the hull can cause damage to your audio system. Marine audio grilles are important to protect your speaker and subwoofer components from abuse.
Look for audio grilles that fit the aesthetics of your boat or watercraft. Choose from different colors, with or without LED lights. Audio Legion marine grilles can complement classic, modern or sporty boat designs.
Marine-grade power and speaker wire
Don't forget about marine-grade power and speaker wire to power your marine audio components. Wiring, too, is susceptible to moisture, salt air, sunlight, and extreme temperatures. Investing in the right kind of power and speaker wire prevents short-circuiting and other electrical problems while you're on the water. Audio Legion wire is 100% oxygen-free copper (OFC) and tinned for superior conductivity and durability.
Other considerations for your watercraft's audio system
Type and size of boat
The types of audio components, the quantity you need, and mounting locations will vary by the watercraft you own. A wave runner or personal watercraft obviously has less room and requires fewer or smaller speakers. As another example, a fishing boat or sailboat may have different seating capacity and require less wattage than a pontoon or party boat.
Listening needs
Your choice of marine audio components ultimately comes down to your audio performance needs. Fishermen, for example, may want to listen quietly to news or talk radio on a crystal clear signal to pass the time, while adding a powerful subwoofer would scare away the fish.
At the other end of the spectrum, wakeboarders or similar performance watersports people may have louder engines and need higher-capacity audio to overcome them. Or they may simply want more bass for partying while their boats are anchored or docked at sandbars.
In general, because boats are exposed to the elements, they need higher-power audio of at least 400 to 600 watts to make sure sound travels despite wind and other ambient sounds.
Interior boat styling
Audio systems should not only sound great, but look great too. What fits the style of a high-performance speed boat or personal watercraft may not match the look of a center-console fishing boat or sailboat. Marine grilles are one way to customize the look of speakers and subwoofers, but you also want to choose the size and number of speakers to fit your seating arrangement.
Onboard power output
Your boat's electrical system will determine the amount of power output it can give to your speakers, subwoofers, or other audio components. One way to get more sound with less power is to get large-diameter speakers and subwoofers. Audio Legion offers marine speakers and subwoofers as large as 8 inches.
Marine audio installation tips
Choosing the placement
Before installing a marine audio system, decide how many speakers you need, and where to put them. This process will help determine the sizes you want. Unlike with most vehicles, there isn't one ideal place to install audio equipment in a boat or watercraft. Consider wakeboard towers, center consoles, under bow or stern seating, or inside cabins.
Some general tips are to aim the speakers toward your passengers. Position them at an upward angle when they're situated fairly low, or at a downward angle when they're higher.
Replacing a factory marine audio system
It makes sense to use the existing cut-outs for the receiver and speakers, if possible, when upgrading your boat's audio system. You might still need to cut some paneling or run wires for the components, especially if you're increasing the audio capacity. Consult your boat manufacturer for more information on where to ground components.
Audio Legion marine audio components work for both self-installation and professional installation. One way to save money is to buy your components from us, as opposed to a store or installer, and then install them yourself, creating the custom audio performance you want at a fraction of the price.
Shop for high-quality marine audio
If you're ready to choose your sound system, shop Audio Legion for all of your speakers, subwoofers, grilles and other marine audio needs.
Pro Drivers
Our Pro Driver marine speakers are some of the loudest speakers you'll find in a marine-friendly application.
Subwoofers
Hear your favorite songs out on the water in a whole new way with enhanced bass and sub-bass frequencies.
Marine Grilles
Keep your boat's speakers and subwoofers protected while making them blend in our stand out aesthetically.
Need a hand picking out your boat's audio components? Let us help you build the perfect marine audio system.